POPULAR NOW
See More
There was an error loading Chartbeat data.
Zodiac meltdown.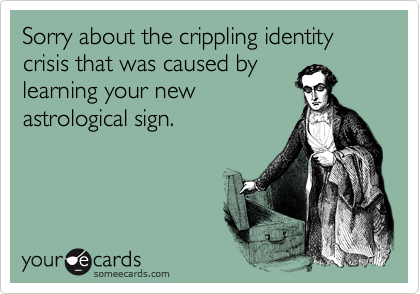 If you're someone who relies on the mysterious-sounding locations of stars to determine your personality and outcome in life, get ready to be horrified. Astronomers from the Minnesota Planetarium Society found that because of the moon's gravitational pull on Earth, the alignment of the stars was pushed by about a month. Your astrological sign is determined by the position of the sun on the day you were born, so that means everything you thought you knew about your horoscope is wrong. Here is where the real signs of the Zodiac should fall. Get ready for your world and/or horoscope to change forever.
Capricorn: Jan. 20-Feb. 16.
Aquarius: Feb. 16-March 11.
Pisces: March 11-April 18.
Aries: April 18-May 13.
Taurus: May 13-June 21.
Gemini: June 21-July 20.
Cancer: July 20-Aug. 10.
Leo: Aug. 10-Sept. 16.
Virgo: Sept. 16-Oct. 30.
Libra: Oct. 30-Nov. 23.
Scorpio: Nov. 23-29.
Ophiuchus: Nov. 29-Dec. 17. (This one is new)
Sagittarius: Dec. 17-Jan. 20.